A fountain pen is any pen that holds and automatically releases its own ink. In their broadest definition, fountain pens include today's modern ballpoint and rollerball pens. However, when we talk about collecting fountain pens, we are usually referring to a pen with an exposed or hooded split metal point, sometimes with a hardened nib, fitted against a feed.

Most collector's pens go well beyond the basics, and are often collected for their historical, technical, or aesthetic appeal. Some elaborately designed pens have even been called works of art!

Parker, Sheaffer, Wahl-Eversharp, and Waterman are four of the most commonly collected pen brands. Each of these manufacturers has deeply interesting and storied histories that correlate with product development. A true expert can look at a pen from one of these companies and tell you when it was made as well as what was going on at the company, and in the country, at the time of manufacture!

Collectible fountain pen values adhere to the basic principles of supply and demand, and as a result are available in all price ranges, from a few dollars to hundreds of thousands of dollars. Most collectible fountain pens, however, fall into three and four figure ranges.

The condition of a pen will certainly have some effect on its worth. While some collectors use their pens and others don't, most collectors keep their fountain pens in usable condition. A pen that is not in usable condition can often be purchased at a bargain price and then fixed by a qualified restoration or nib adjustment service. Unlike many other areas of collecting, original boxes and papers won't greatly increase a fountain pen's worth.

While some people collect modern fountain pens, others focus solely on older pens. So which should you collect? Well, modern fountain pens are certainly much easier to find and cost less money, while old fountain pens may have more historical interest and greater variety. However, when all is said and done, the rules regarding collecting fountain pens are no different than the rules regarding collecting anything else. In other words, collect what you like!

There are many books, magazines, and websites devoted to collecting fountain pens. This site, FountainPens.us, is a good resource for anyone buying fountain pens, whether you are looking for today's modern variety or those with more historic interest.
---
Copyright © Zeducorp.
All rights reserved.

Collecting Fountain Pens - Antique Pens - Vintage Pens
Related Images
Black Fountain Pen With Gold Nib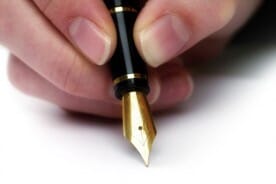 Writing With A Fountain Pen